Ultrasonic round separator is a new vibrating sieve machine combining ultrasonic generator and round separator, in addition to three-dimensional round separator itself, Ultrasonic round separator overlaps ultrasonic vibrating on the screen surface, which effectively solves the materials difficult to screen, such as: various high electrostatic, superfine, strong adsorption, easily aggregated, light relative density materials. Ultrasonic round separator not only avoids to block the screening mesh but also increases the screening capacity and accuracy, achieving the purpose of fast screening and cleaning.
Detail Pictures
Ultrasonic round separator consists of cover, inlet, outlet, screen frame, ultrasonic screen, vibrating motor, vibrator, controller, and so on.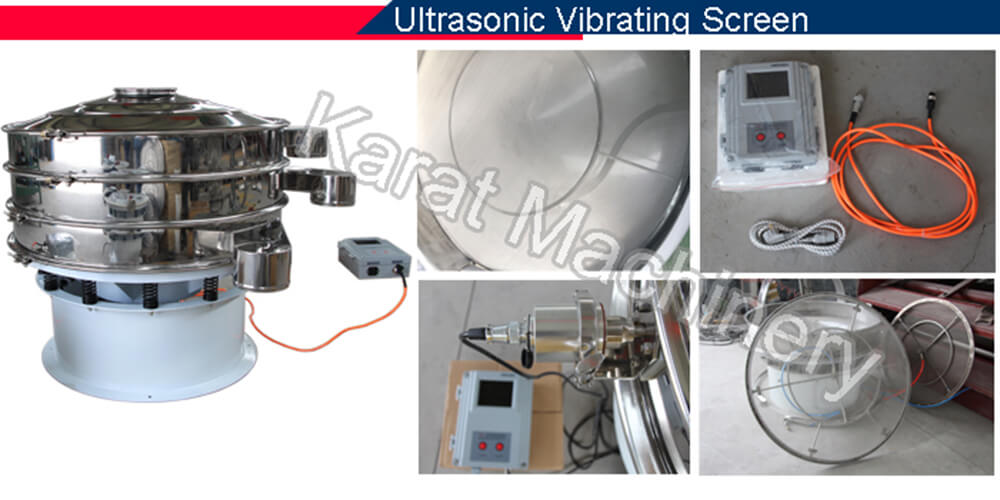 There are exteral transducer and built-in transducer for ultrasonic vibrating screen.
External transducer

Built-in transducer
1.Fine sieving of sticky and difficult materials

2.Saving time for cleaning screen.

3.Eliminating the pollution of bouncing balls to materials.

4.Keeping screen mesh size & stabilizing sieving precision.

5.disintegrating adhesive materials, reducing the coarse materials

6.Decreasing sieving times.